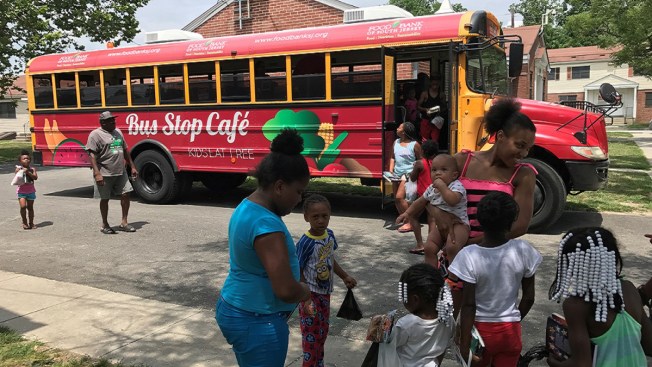 Published at 7:52 PM EDT on Jul 11, 2017 | Updated 2 hours ago
School is out of session which is music to the ears of many children. For some, however, no school means less food.
School programs, such as the National School Lunch Program, often provide affordable or free lunches throughout the school year, but when school comes to a close, so do the programs.
The Food Bank of South Jersey is reaching out to those kids with its Bus Stop Cafe.
The Bus Stop Cafe will go to the children carrying FBSJ staff and food. It will be going to four different locations in Salem County, and will be making stops every day.
In 2016, the Bus Stop Cafe was modified to not only provide food but a place for kids to eat lunch.
"On behalf of Betty Zipf, who championed this project, we are thrilled to support a program providing children with an opportunity to eat and enjoy their meals in a safe and friendly environment," said Kathleen Schroeder, Trustee of the Peter G. Schlotterer and Elizabeth M. Zipf Charitable Trust, a group that helped to reconstruct the bus.
Bus Stop Cafe will also be providing over 6,000 books from First Book.
It is also providing a little extra motivation for kids to get their daily sustenance. Kids will get a stamp for visiting the bus ten times and are then entered to win four Philadelphia Eagles regular season tickets.
The Bus Stop Cafe is an extension of the FBSJ Summer Meals Program which is expecting to deliver a half million meals to 8,000 low-income kids by September 1.
Read more: http://www.nbcphiladelphia.com/news/local/Bus-Stop-Cafe-Feeds-Kids-in-South-Jersey-433909653.html#ixzz4md0R2Kkb
Follow us: @nbcphiladelphia on Twitter | NBCPhiladelphia on Facebook